Natural Stone Institute (NSI)
The Natural Stone Institute is a trade association representing every aspect of the natural stone industry. The current membership exceeds 2,000 members in over 50 countries. NSI offers a wide array of technical and training resources, professional development opportunities, regulatory advocacy, and networking events. Two prominent publications—the Dimension Stone Design Manual and Building Stone Magazine—raise awareness within the natural stone industry and in the design community for best practices and uses of natural stone.
Back Office: TSI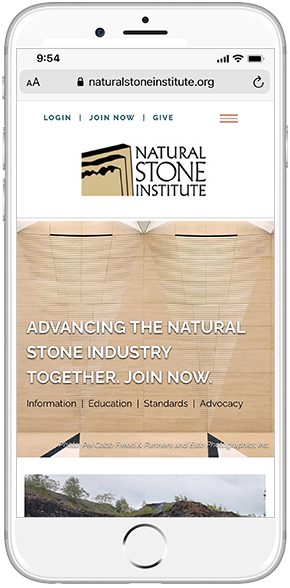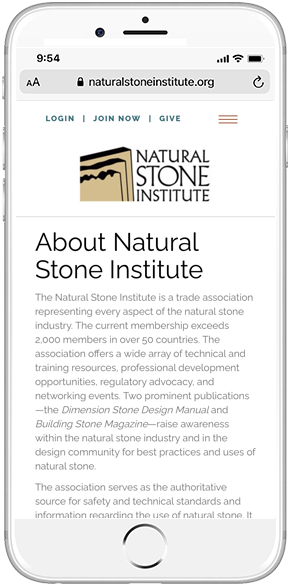 The PODI Difference:
Like many associations, NSI had a large number of industry and association documents which were not well organized or easily found or accessed on their web site. To leverage this unique asset, their new site includes a Resource Library developed by Potomac Digitek. Now NSI has all their documents in one place which is searchable and easily maintained. The Library software also tracks usage, reporting on document access and downloads – even at the individual member level. Click here to check out the NSI Resource Library.
---
American Feed Industry Association (AFIA)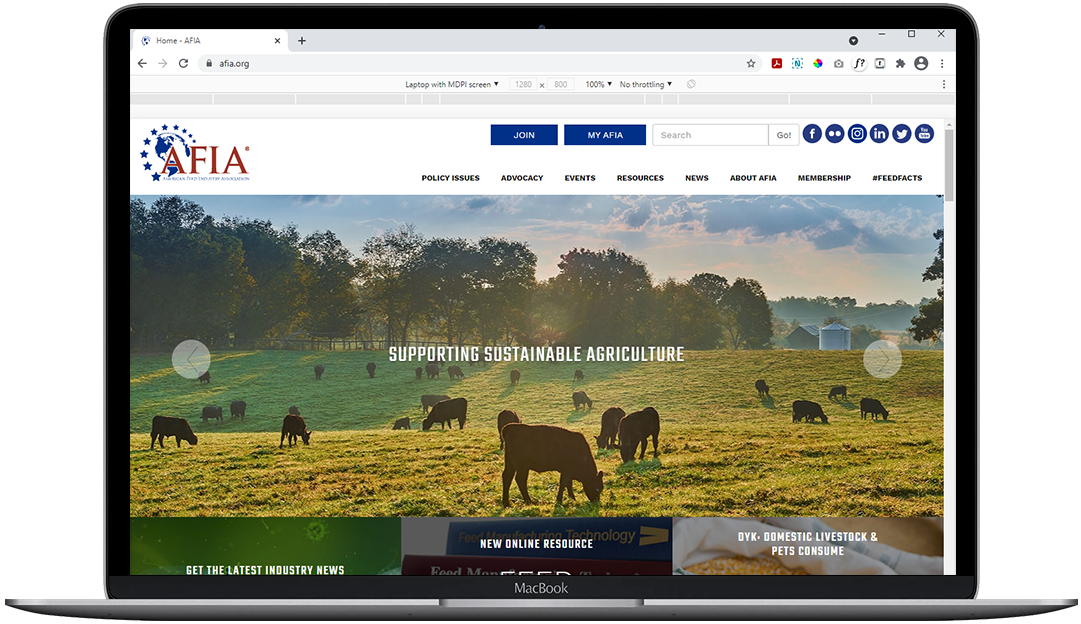 The American Feed Industry Association is committed to representing the total feed industry, as a key segment of the food chain, and member companies' interests with one industry leadership voice on matters involving federal and state legislation and regulation; keeping members informed of developments important to them; creating opportunities to network and address common issues and interacting with key stakeholders essential to the success of the feed and animal agriculture industries.
Back Office: ACGI
The PODI Difference:
Helping an organization shed the burden and frustrations of maintaining a clunky online presence and move to a right-sized solution where they are successful and independent is very rewarding. But with AFIA, our PODI team feels a bit like the parent who cuts the apron strings and watches their charges head off into the world.
The AFIA team selected Potomac Digitek through a competitive RFP process. A strong bond between our teams emerged as the real work began after the selection. The resulting joint development effort provided a web site that the AFIA team quickly grasped and now actively manages independently.
---
Society for Laboratory Automation and Screening (SLAS)
The Society for Laboratory Automation and Screening is a global community of more than 16,000 scientists, technologists, researchers, academics and data informatics professionals. SLAS provides a wide array of relevant education, information, innovation and access to the world's largest network of professionals focused on leveraging technology for scientific advancement.
Back Office: iMIS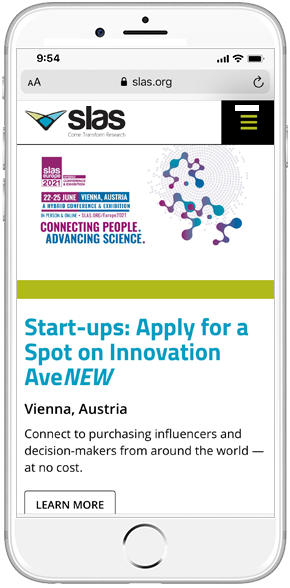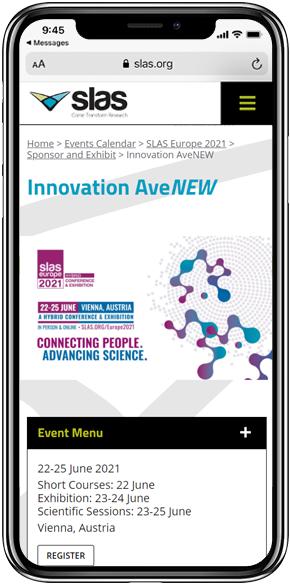 The PODI Difference: The SLAS and PODI teams have worked together for more than 15 years through a merger of associations, several iMIS upgrades, and a transition to new web site technologies like responsive design. The experiences have given both teams a deep understanding of each other's business and built a trust that helps both thrive.
---
North Carolina Nurses Association (NCNA)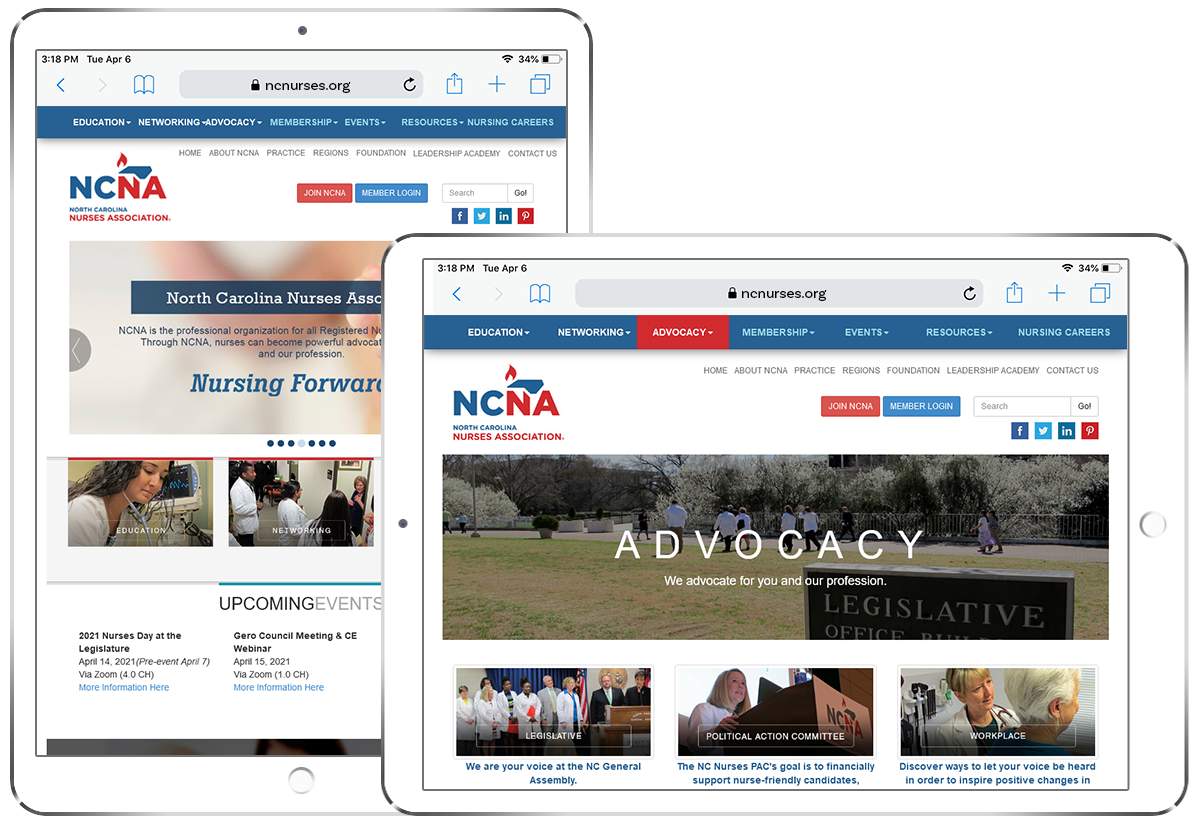 North Carolina Nurses Association is the leading professional organization for North Carolina's registered nurses, we equip nurses at all stages to thrive in an ever-changing healthcare environment. NCNA helps keep North Carolina nurses on the cutting edge of nursing practice, policy, education, and more. Join us as we work to advance nursing and ensure high-quality healthcare for everyone.
Back Office: Impexium
The PODI Difference: Launching a new web site and new back office simultaneously can be a daunting undertaking. NCNA took up this challenge and navigated the tricky technical waters with Potomac Digitek's assistance and guidance. The PODI team worked closely with NCNA and their integration manager to ensure both the web site and back office were connecting and on the right track.
Even now, years after accomplishing the dual development efforts, the NCNA team remains in close contact with Potomac Digitek. The PODI team knows the ins and outs of NCNA's systems and can provide advice and support whenever it is needed.
---
Washington Area Council of Engineering Laboratories (WACEL)
When COV-19 shutdowns became widespread in March 2020, many associations had to scramble to postpone, cancel or reimagine events that could no longer be held in person. PODI client WACEL had a different challenge – the in-person certification testing offered by WACEL on behalf of its construction and engineering firm members remained critical as the construction industry continued to work through the pandemic.
WACEL offers 14 different certification exams, with a large majority being proficiency exams that technicians must pass before working on construction sites. Prior to the pandemic, all WACEL testing was conducted in person, either at the WACEL office in Bethesda or at member sites, and grading was done by hand. WACEL needed to quickly shift its certification testing online while maintaining the integrity of the testing process.
PODI and WACEL worked together to develop a plan to offer testing through the PODI education module.
Back Office: Filemaker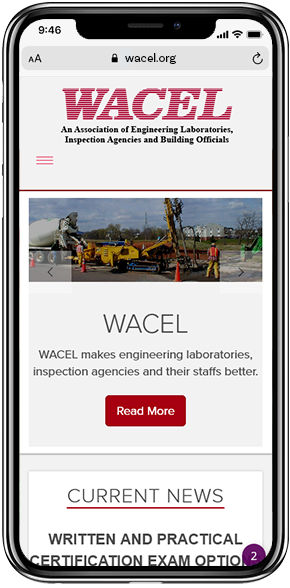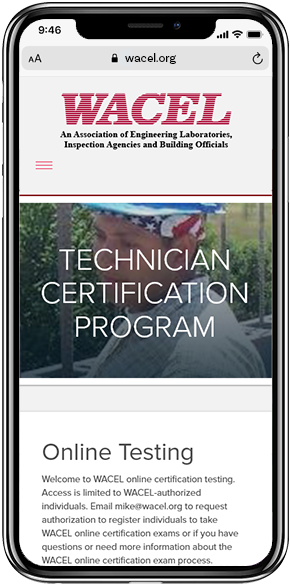 The PODI Difference:
Within a few weeks, PODI put in place a secure registration system, multiple versions of WACEL proficiency exams, secure links to engineering plans, automatic grading, and programming to connect exam registration and results to WACEL's Filemaker back office. Special exam requirements were set up to allow for specific times for testing availability and time limits for each course.
---
Property Management Association – District of Columbia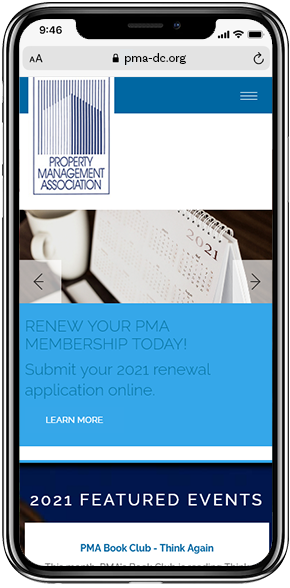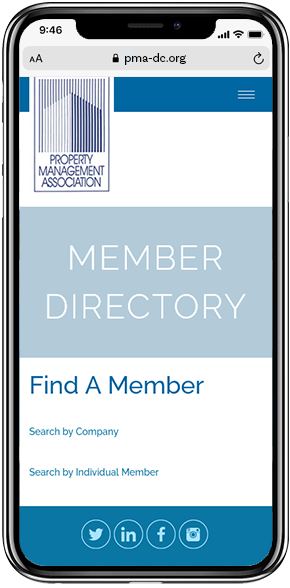 Since 1952, the Property Management Association – District of Columbia has enabled property management professionals to advance professionally by offering practical education and networking opportunities that help property managers to become more successful.
PMA is a thriving community of more than 1,800 property management professionals who manage an estimated 750,000 residential units and in excess of 100 million square feet of commercial, retail and mixed-use space. PMA's resources include nearly 400 Associate Member firms that provide products and services property managers and properties use daily.
Back Office: FileMaker
The PODI Difference: FileMaker is a flexible and feature-rich data platform, but it can be difficult to find vendors who can bring these assets to web site users. Potomac Digitek has done that for PMA-DC and many other organizations using FileMaker as their back-office.
The PMA team loves the control they have over member data and how quickly database updates can be reflected on the web site. PMA-DC holds many events on a monthly basis, the integration with FileMaker makes it very easy for the PMA staff to setup, track, and manage these events.
---
National Assocation of Agricultural Educators (NAAE)
The National Association of Agricultural Educators is a federation of state agricultural educators associations with more than 7,800 members. Our members are involved in school-based agricultural education at any level, from middle school through postsecondary, and state and national agricultural education leaders.
NAAE advocates for agricultural education, provide professional development for agricultural educators, and works to recruit and retain agricultural educators in the profession. The association offers a variety of programs and services to support this three-pronged mission.
Back Office: FileMaker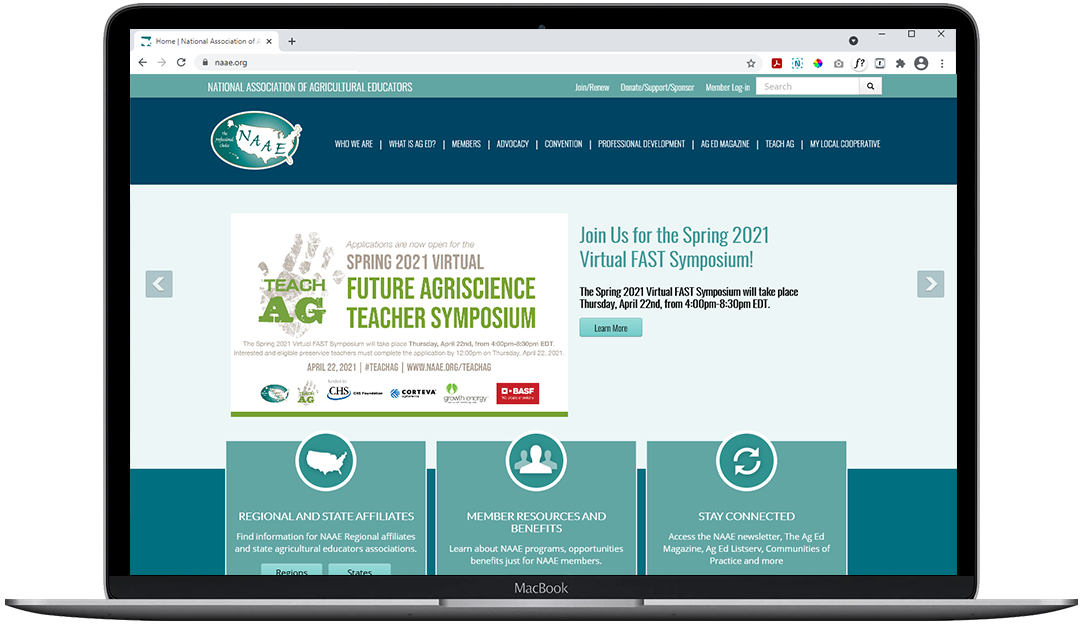 The PODI Difference: NAAE had quite a number of manual processes in place to ensure chapters and individual members received the latest information. That all changed when NAAE and Potomac Digitek teamed up to integrate their FileMaker back office with the Web. Now, those same processes are almost entirely handled via new software tools – like the new State Chapter import tool. The NAAE/PODI partnership has opened new features for members who can now manage much of their data online and receive the latest news and information instantly.
---
International Biometric Society's Eastern North American Region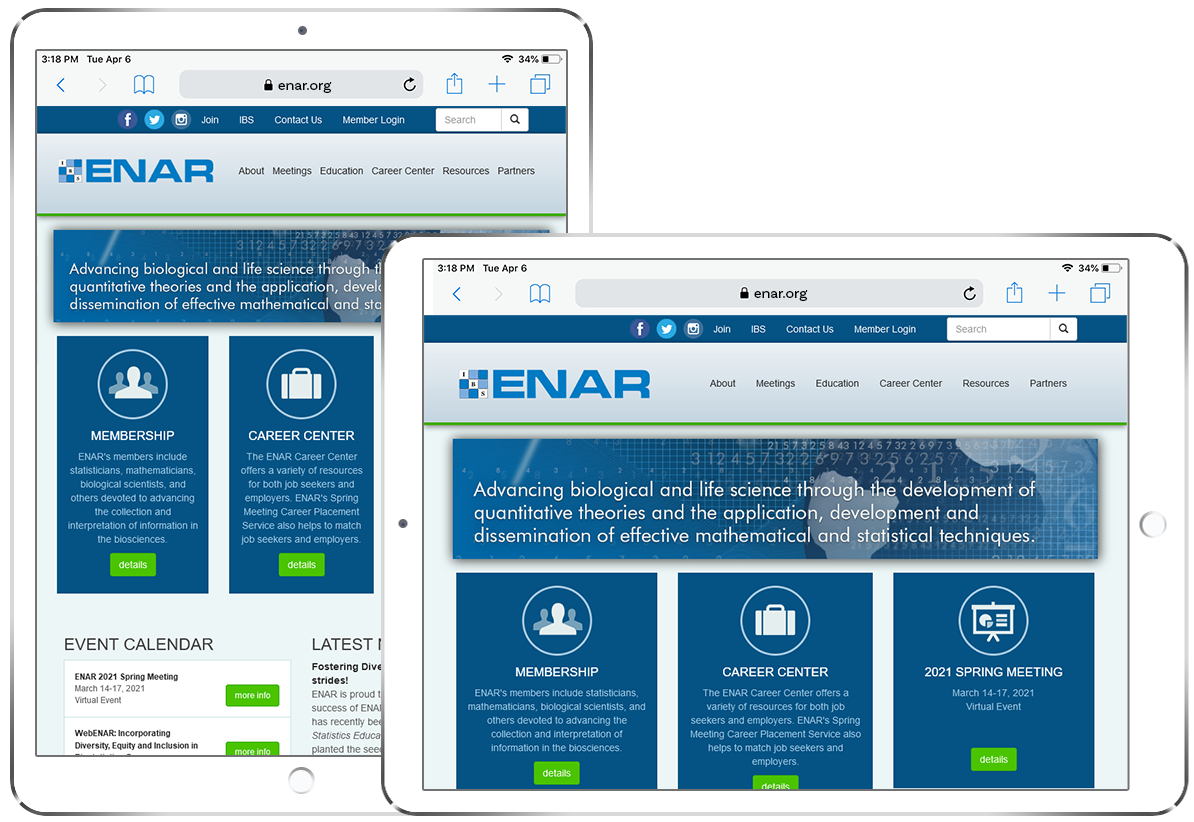 The International Biometric Society's Eastern North American Region promotes the advancement of biological science through the development of quantitative theories and the application, development and dissemination of effective mathematical and statistical techniques. The Society welcomes as members biologists, mathematicians, statisticians, and others interested in applying similar techniques.
Back Office: iMIS
The PODI Difference: The ENAR/PODI relationship dates back to 1995 as their web site was one of the first launched by Potomac Digitek. This small but active organization has a robust annual meeting activity which includes abstract and award submissions, workshop registration, and career placement services. The latter includes services for both job applicants and employers. Using software develop by Potomac Digitek, job seekers can post resumes and employers can post job openings, schedule interviews, and reserve private rooms for the interviews even before the meeting starts! It is a great service that helps ENAR's highly skilled member base find a match with employers looking for very specific technical expertise.
---
American Council of Engineering Companies (ACEC)
The American Council of Engineering Companies represents thousands of companies as the voice of the engineering industry in Washington, DC and throughout the nation. With roots dating back more than 100 years, ACEC is a federation of 52 state and regional councils representing more than 600,000 engineers, architects, land surveyors and other specialists. Our primary mission is to strengthen the business environment for our member firms through government advocacy, political action, and business education.
Back Office: netForum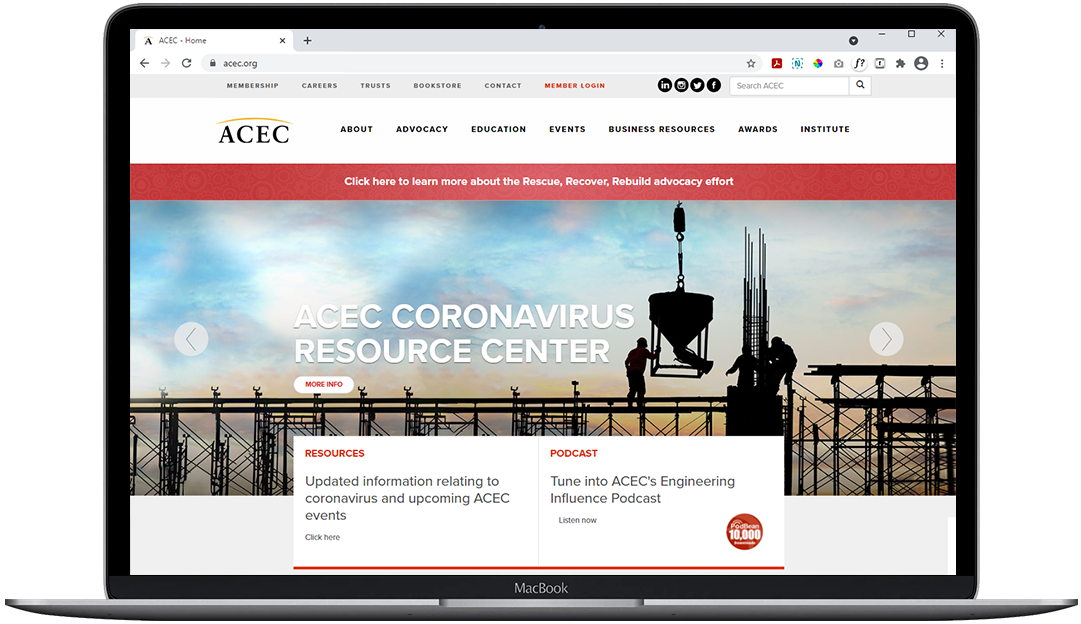 The PODI Difference: Annually ACEC members can win awards and garner recognition for their recent engineering projects at the state and national levels. Nominated projects are described and documented via presentation packages, photos, and descriptive narratives all of which are submitted via an online process created by Potomac Digitek. Submissions typically include twenty uploaded files and an online payment receipt. And in the latest version, state entries submitted via the PODI-developed system can be entered in the national competition with a simple transfer commend. Over 200 projects are submitted annually to the national competition. Judging follows and the highest rated projects are featured in a formal celebration in Washington D.C.
---
American Academy of Medical Dosimetry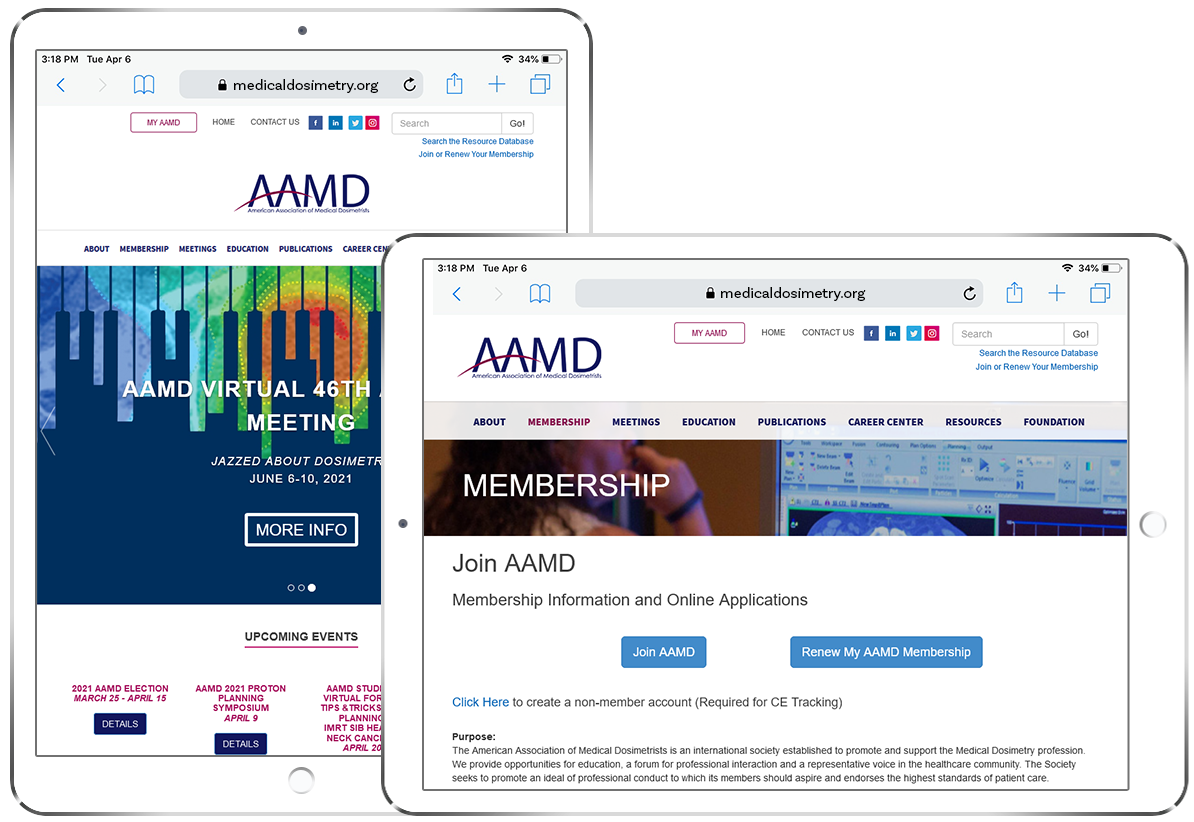 The American Academy of Medical Dosimetry is the primary resource for medical dosimetrists and treatment planners throughout the world. We are the only professional association devoted exclusively to promoting and supporting the medical dosimetry and treatment planning profession.
Back Office: YourMembership
The PODI Difference: Like many professions, Medical Dosimetrists keep current and hone their skills through a continuing education program. Potomac Digitek teamed with AAMD in creating an online tool to mange CE activity. Through this online tool, administrators can setup workshop and webinars for CE credit and AAMD members can obtain CE credit, get CE transcripts, and print certificates with minimal AAMD staff involvement. And the best timesaver of all is the tool's automatic daily upload of CE activity to the nation certifying organization, the Medical Dosimetrists Certification Board. AAMD Staff no longer need to perform the manual collection and upload tasks.
---
Learning Forward
Learning Forward, the Professional Learning Association, is the only professional association devoted exclusively to those who work in educator professional development. We help our members leverage the power of professional learning to affect positive and lasting change.
Back Office: MemberSuite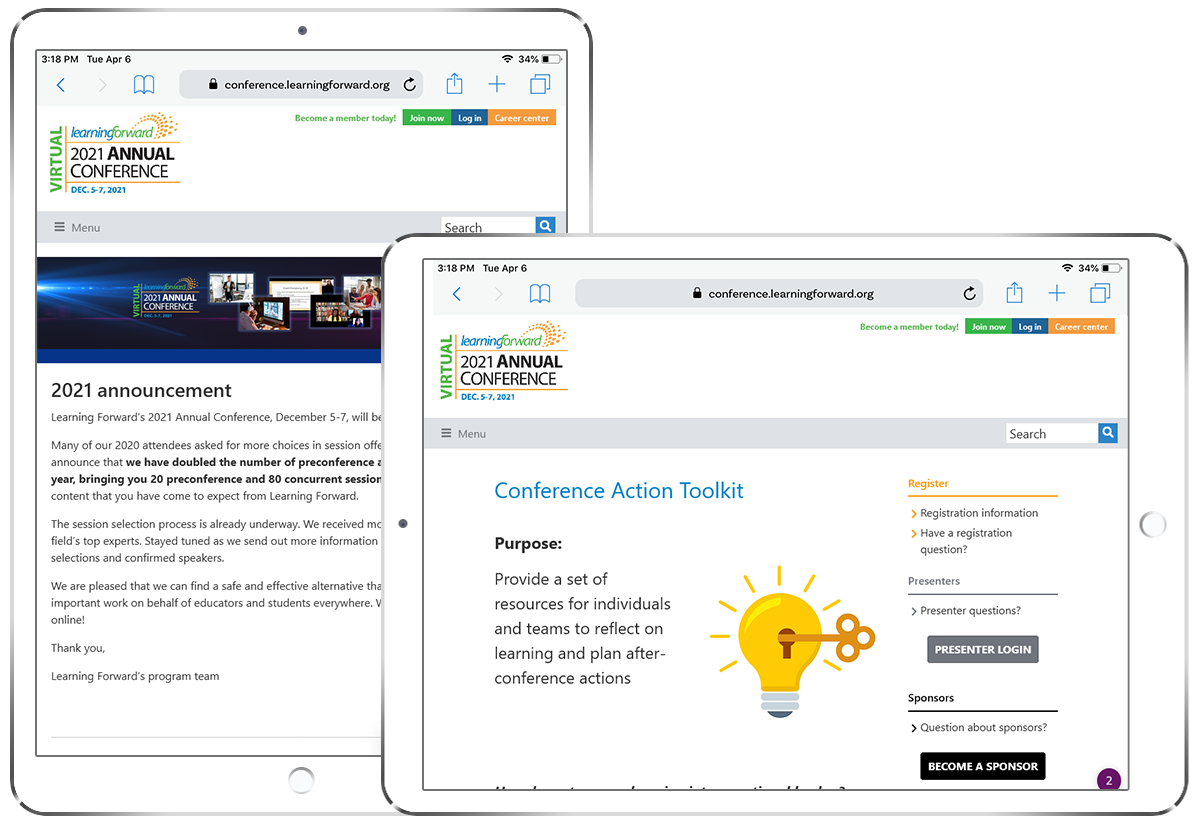 The PODI Difference: Creating a solid 5-day conference agenda with 300 sessions targeting four different audiences is an exacting challenge. And if all those sessions came about through a call for presentations and subsequent selection process, the process can be daunting. Potomac Digitek and the Learning Forward organization have worked together in developing software which helps manage the process from the initial call for presentations (which nets 800 submissions) through session selection, agenda layout, and the online/onsite registration of 3,500 attendees. A conference content creation process that we done successfully together every year since 2003!