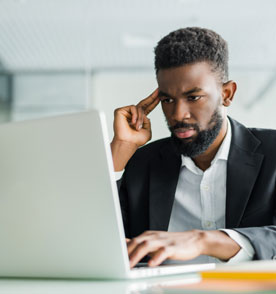 First, I think we can all agree that we're pretty busy. Who's got time to futz around looking for even a missing sock, much less the hotel reservation code for an upcoming meeting?
No one, that's who.
So then why do we make our clients, members, guests, speakers, etc., dig around through paragraphs about the merits of a new program just so they can get to the sign-up button? Why should they have to scroll past dozens of photos of last year's conference before they can see this year's program?
While the flowery language and information is all very helpful for someone who is not ready to take action, those who are ready are just getting frustrated.
Rule of thumb — put your action items at the top and bottom of the web page. Then, you can fill the middle of the page with all the content, photos, and descriptive text you want.
A good website's purpose is to present information to viewers in a clear manner. "I just want to see what I came here for." This is the first thought everyone goes through when scrolling through your website. It's important to display major elements like "how to register" or "what can we do for you" in a clean modern way without your site appearing heavy-handed and busy.